Workforce Development
Annual update on actions in The Plan
The Action:
Bring school cooks closer to the rest of the catering sector
What's worked well:
With their launch at the LACA Conference in July 2015, we now have a set of aspirational Professional Standards for a range of job roles, all crucial in the delivery of quality, nutritious school food to 4.6 million children each day. The Professional Standards clearly define the knowledge, skills and behaviours that underpin the delivery of quality school food.
The Professional Standards are already being used by schools and caterers to help in their recruitment and training and development programmes. Initial feedback is that the Professional Standard for the midday supervisor role is being particularly well-received.
Snippets of success:
The Midday Supervisor role links the school food workforce together with the school. All of us know that it is these vital links that develop a whole school approach to food and a positive lunchtime experience.
"The Professional Standards are so important as they highlight the breadth of skills within the school catering industry and will raise the profile and perception of school catering.

"I have recently used the Standards to develop our Midday supervisor training – to highlight the skills needed and show how important the role is in creating a positive lunchtime experience. Midday supervisors are integral to making lunchtimes work. I often tell my teams that they are the front of house staff in our school restaurant and our children are all important customers."
Sam Ward, Catering Manager at Collaton St Mary CE Primary School (Gold FFL school)
National School Meals Week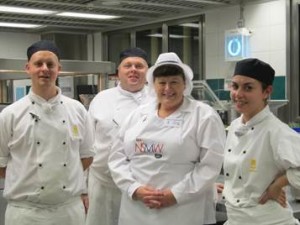 The skills and professionalism of the school catering workforce were showcased during National School Meals Week (2nd – 6th November 2015). One hundred School Chef Swaps took place in high profile venues around the country and many reciprocal moves have been arranged for the restaurant chefs, including some with a Michelin Star, to spend a day in school kitchens.
In addition to the Chef Swaps, ten school chefs were given the opportunity to represent the industry and work in the prestigious kitchens at the House of Commons.
What's coming up:
The Workforce Development Group (WDG) are currently collecting case studies to best understand how the professional standards are being used by caterers and in schools and will be promoting examples of what works well. The key focus of the WDG is to ensure the Professional Standards are being used by the industry and as a next step will be reviewing how the Standards support training, qualifications and apprenticeships. The WDG will also be exploring opportunities around the potential for future quality assurance but only when it is best understood how they are being used.